We believe in the art of simplicity. Minimal Indian products are created for those who believe in the idea of 'less is more'.
Handmade with love, our products are made for the homes that carry the nostalgia of a simpler time.  
DESIGN PHILOSOPHY
I have always appreciated the beauty of old world charm and a true believer of minimal living. Minimal Indian is conceptualised to celebrate these two philosophies, where I could blend these ideas of slow living and my passion for art, design and traditional Indian crafts. 
It is made for those who consciously choose artisanal products and appreciate a simplistic design language. At minimal Indian our aim is to create products that are worth collecting and to be cherished for years to come..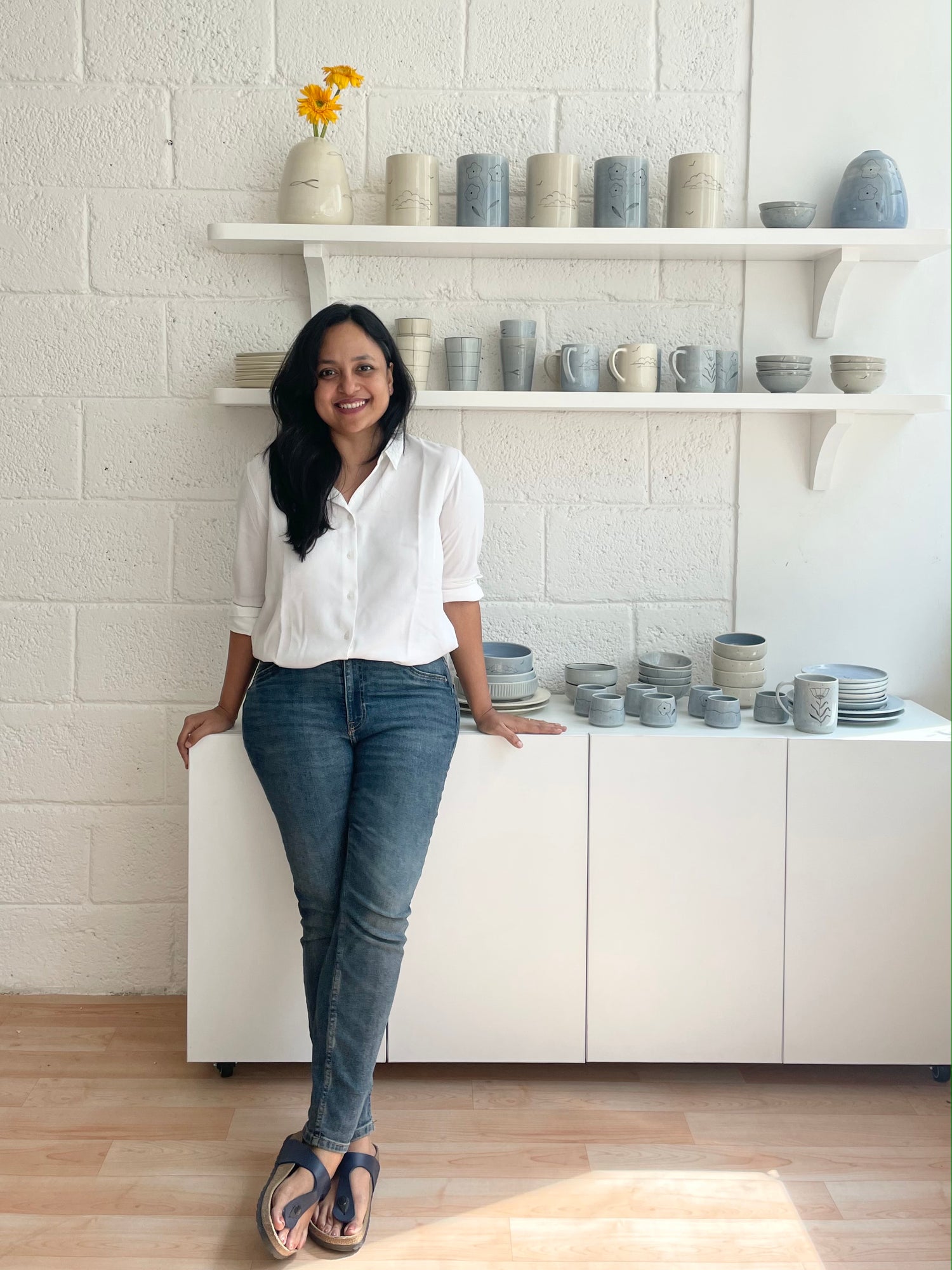 About Adrita
Adrita has an exciting 14 years long journey in the Indian fashion industry, from apparel design to marketing and working with the Indian Handloom Sector. She holds a design degree from National Insititute of fashion Technology, Kolkata and a professional training in Fashion Marketing from London College of Fashion.
Minimal Indian reflects her belief in simplistic design sensibilities and her eternal love for ceramics and textile. Adrita founded Minimal Indian in the year 2019 with a desire to celebrate handmade artisanal products and the art of minimalism.
THE MAKING OF OUR PRODUCT
I am constantly drawing inspiration from our travel stories, local crafts & cultures, landscapes and simple details of Indian households.
Every pattern creation starts with a brush stroke. They all are originally hand drawn and hand painted on paper. I play around with various pattern mix and glaze combinations that compliment different shapes of the ceramics.
The art of making Minimal Indian ceramics
All ceramics are handmade by skilled studio potters, one piece at a time. Every piece is meticulously hand painted by, with the finest brushstrokes. 
Some of the motifs carry more than hundreds of brushstrokes. Minimal yet complex nature of these motifs makes the painting process long, yet the details makes it totally worth the time ! 
STORES AND EVENTS